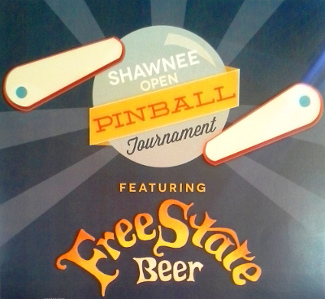 The 2014 Shawnee Pinball Open tournament will be October 24-25, 2014.  The tournament is IFPA endorsed and will award full annual tournament points.
The World Series will be on the big screen during qualifying and finals!
Additional updates will be posted on this site, and on Facebook.
Main Qualifying Results | Classic Qualifying Results
Quick Links:  Tournament Games | Qualifying Points | Prizes
Pizza West is located at 5436 Roberts St. in Shawnee, Kansas.
View Larger Map
Main Tournament
Qualifying for the main tournament will begin Friday, October 24th at 7:30 pm and run until 11:00 pm.  Qualifying will resume on Saturday the 25th at 2:00 pm and end at 6:15 pm.  The main tournament will start at 6:30 pm.
Each game played must have a paid entry and counts towards your entry.  No practice during qualifying.  Only the highest score for each person on each game is entered.  If you do not beat one of your previous scores it is a scratched entry.
6 machine bank for qualifying, best score on each machine counts towards your qualifying entry.  See the Qualifying Points page for details.
$10 for 6 entries, one for each game.  $3 each additional single game entry
The top 8 entries will advance to the A division final, next 8 will advance to the B division final.
Finals are head to head, double elimination, best 2 out of 3.
PAPA rules v17 and IFPA 11 rules regarding malfunctions and game settings will generally be adhered to.  Tournament officials will make final decisions based on circumstances
Games will not be free play, bring your quarters!
Side Tournament
There will be a "classic game" side tournament on Tri Zone.
$1 each entry to qualify
Top 8 scores advance to the final games:  1-4-5-8, second game 2-3-6-7
Final is two highest scores from first and second game above
Tri Zone will not be on free play, 25 cents/play
Friday October 24th Schedule:
Friday qualifying from 7:30-11:00 pm.  Back room is reserved for tournament use.
You are welcome to practice anytime prior to 7:30, Pizza West opens at 11:00 am.  We will only accept qualifying entries starting at 7:30 pm.
Saturday October 25th Schedule:
Saturday qualifying from 2:00-6:15 pm
B division begins play at 6:30
A division begins play after B division finishes
Side "classic" tournament will run concurrent with B and A division finals
Back room is ours starting at 2:00 pm.  You are welcome to practice anytime prior to 2:00, Pizza West opens at 11:00 am.
Payout
Tournament payout will be awarded as follows, percentages are of the entire pot.  100% payout minus trophy expenses.
80% payout to A division (Qualifiers 1-8)

25% first place, trophy awarded
20% second place, trophy awarded
15% third place, trophy awarded
10% fourth place
5-8 split 10%

20% payout to B division (Qualifiers 9-16)

10% first place, trophy awarded
5% second place
3% third place
2% fourth place

Side tournament, 100% payout

50% first place, trophy awarded
25% second place
15% third place
10% fourth place

Quick Links:  Tournament Games | Qualifying Points | Prizes