Note:  I'm currently not scheduling repair work.  Often when I get booked out too far or I'm too busy with day to day repair and maintenance I stop performing in-home repairs.  I don't know when I'll resume scheduling in-home repair appointments.  If you need contact information of someone who can help, email me at [email protected]
Do you repair (Pachinko, juke boxes, video arcades, slot machines)?
My primary focus is pinball machines.  If you have something other than a pinball machine I'll take a look at it if I am at your home for a pinball repair.  But I won't book a service call to work on anything other than a pinball machine.
What is your schedule?
I book repairs Tuesday-Friday usually starting at 10:30 am.  I don't schedule repairs after 5:00 pm, and I rarely schedule weekend service calls.  I'm usually booked out 6 weeks, often longer.  Starting in November as the holidays approach, I get booked out 8 weeks or more.  When I get booked out too far, I stop taking appointments for service calls.
What is your service area?
I try to keep service calls limited to the locations circled within in the map below.  I occasionally travel outside this area.  Due to time constraints I try to limit travel time to a maximum of 45 minutes one way.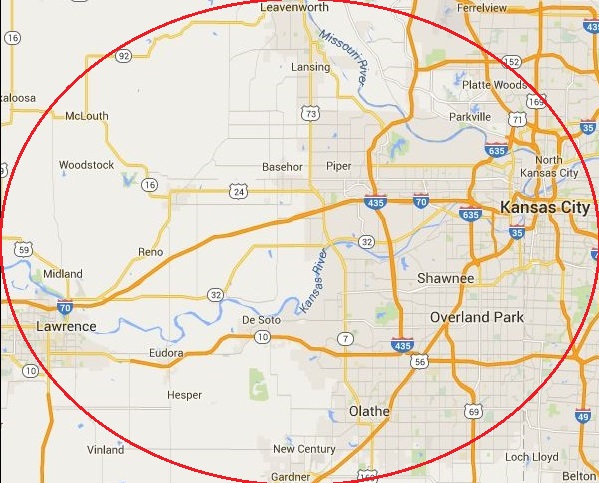 What will it cost to repair (insert problem here)?
I really can't give an accurate estimate for a repair unless I see your game.  There are too many unknowns.  A non-working flipper could be a simple mechanical issue, it could be a complicated issue involving circuit board repair.  Please contact me for information on service call rates and repair information.
What are your rates?
I charge a flat rate for a service call, then handle what actually needs to be fixed on a case by case basis.  I don't show up and start charging an hourly rate.  I'll give you a cost for parts and the repair before I embark on something expensive, no surprises.  Parts are additional, sales tax applies if you live in Kansas.
Are there any pinball machines you don't repair?
I no longer repair solid state Gottlieb games (games with blue electronic score displays starting around 1978).  I do repair electromechanical Gottlieb games (games with score reels made prior to 1979).  If you have a solid state Gottlieb game that needs repair, please email me at [email protected]  I'll provide you with the contact information of someone who services these games.
Can I drop my game off for you to repair it?
Sorry, I only perform in-home repairs and cannot accept games for drop off.  Pinball machines are heavy and cumbersome to move.  I'd prefer to come to you and repair your game.
Do you have parts for (insert manufacturer or game)?
I stock and carry parts for almost any repair on solid state pinball machines (machines with electronic scoring) with the exception of solid state Gottlieb machines.  Unless it is a game specific part, I should have it.  There are a few commonly broken game specific parts that I do keep in stock.  I carry generic parts for a fairly large amount of electromechanical games.
Can I buy parts from you?
The parts I stock are for my use in my repair business.  I generally don't sell to the public.  For electronic components I recommend Big Daddy Enterprises in St. Joseph or Great Plains Electronics in Omaha.  For general pinball parts I recommend Pinball Life, Bay Area Amusements, Planetary Pinball, The Pinball Resource, and Marco Specialties.
Can I send you a circuit board for repair?
It depends on the game, the board, the type of repair that is needed, and my current workload.  I do a lot of circuit board repair, but I generally don't offer this as a mail in service.
Should I buy new circuit boards?  Are they more reliable?
I wrote a blog post about new boards here.  My other advice is to beware of hiring a pinball tech whose default solution is swapping in a new board.  Installing a new board is usually not necessary.  I have 14 games on location, turned on 12+ hours every day, and they are all running original circuit boards.  I wouldn't do that if they weren't reliable.
Do you sell games?
The general answer to this question is, "No."  Usually when I do sell a game it goes to someone I know or have a working relationship with.  Occasionally I'll post a game for public sale, but this is pretty infrequent.  It will be listed on this site's Pinball Blog, my KC Pins Facebook page, and the Kansas City Pinball Facebook group.  If you currently don't see something for sale, there isn't anything for sale.
Do you restore games?
I've done restorations, for myself only.  I'd like to offer this service but currently I don't have the time to restore games for others.  Maybe some day…
Do you perform playfield swaps?
I've done several swaps, but I can't offer this service to the general public.  Again, not enough time.  Maybe some day…
Is this your full time job?
Yes.  Pinball repair and the games I operate at Pizza West and Knub's Pub are my full time job.