I purchased a Twilight Zone back in February that was in fairly nice shape.  It was dirty, had a broken clock as is usual, and a weak dot matrix display.  Everything else was pretty decent except for one thing: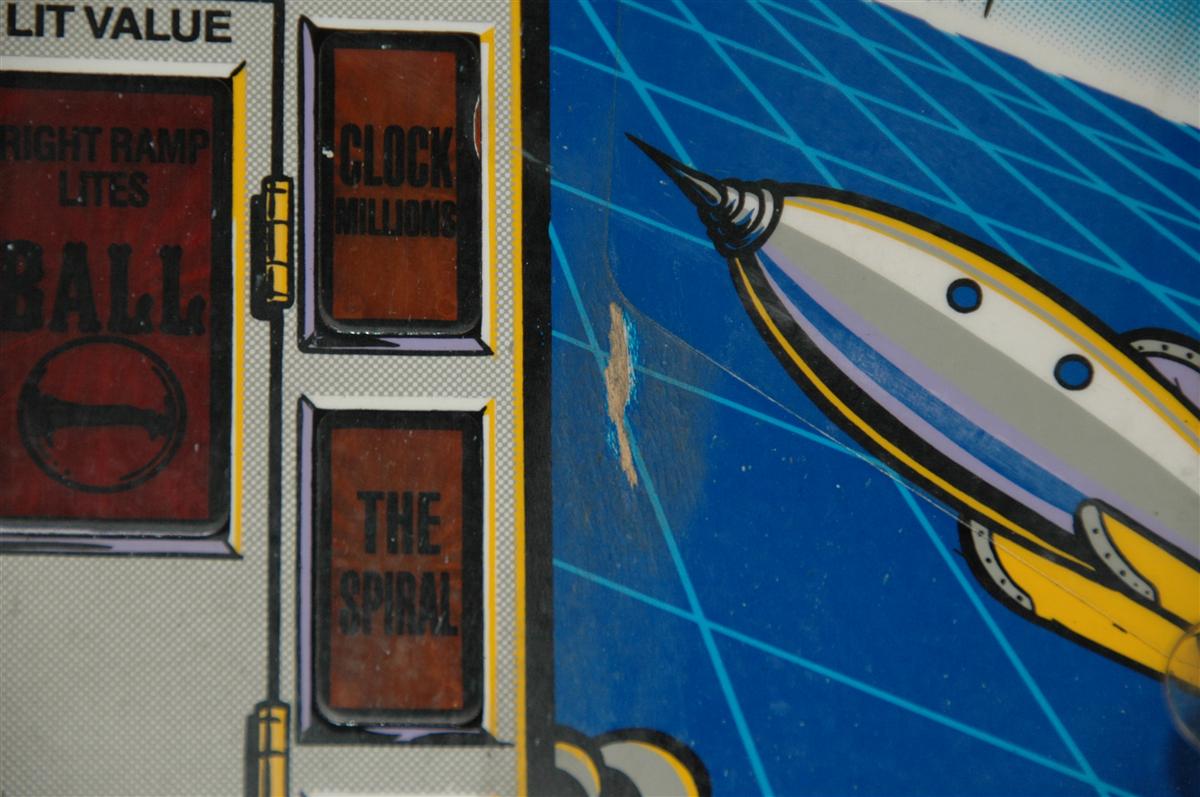 The damage under the rocket ship is due to the kickout for the slot machine having broken welds.  This is a typical problem due to Williams not properly welding the scoop portion that directs the ball.  The scoop was launching the ball airborne and it was pounding the playfield to the point that it was worn to bare wood.  The rest of the playfield had raised inserts and some wear to the edges of the inserts.  Below you can see some of the raised inserts and the wear to the edges.  But there wasn't much wear around the spiral magnets or the other ball drop areas.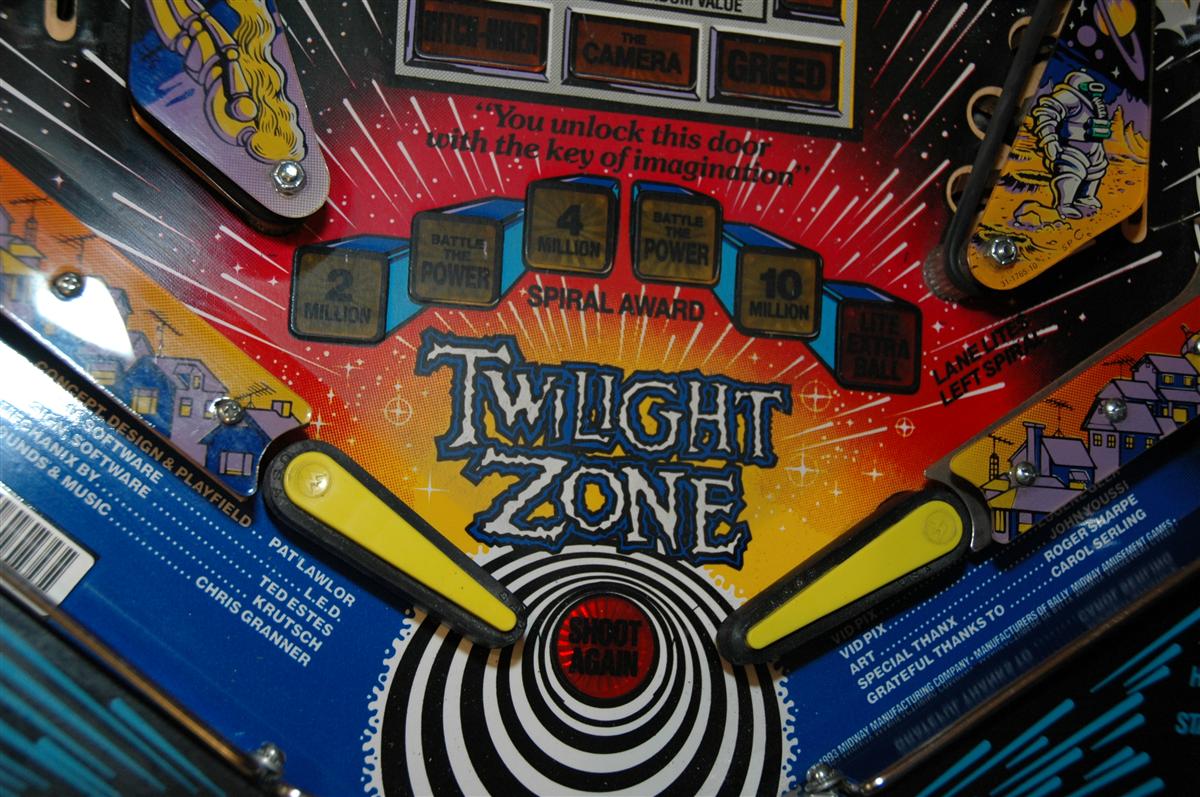 I got one quote for playfield restoration and after some thinking I decided that I'd tackle the project myself.  Other than the damage under the rocket ship, the rest of the touch up to the playfield was pretty minimal.  I thought this was a good candidate to learn to auto clear a playfield.  In the end it was cheaper and faster for me to do the work.  Plus I'm now set up to clearcoat playfields in the future.  I wrote up a blog post about the playfield restoration, it can be found here.  I won't rehash those details, but here is the end result of the repair under rocket ship.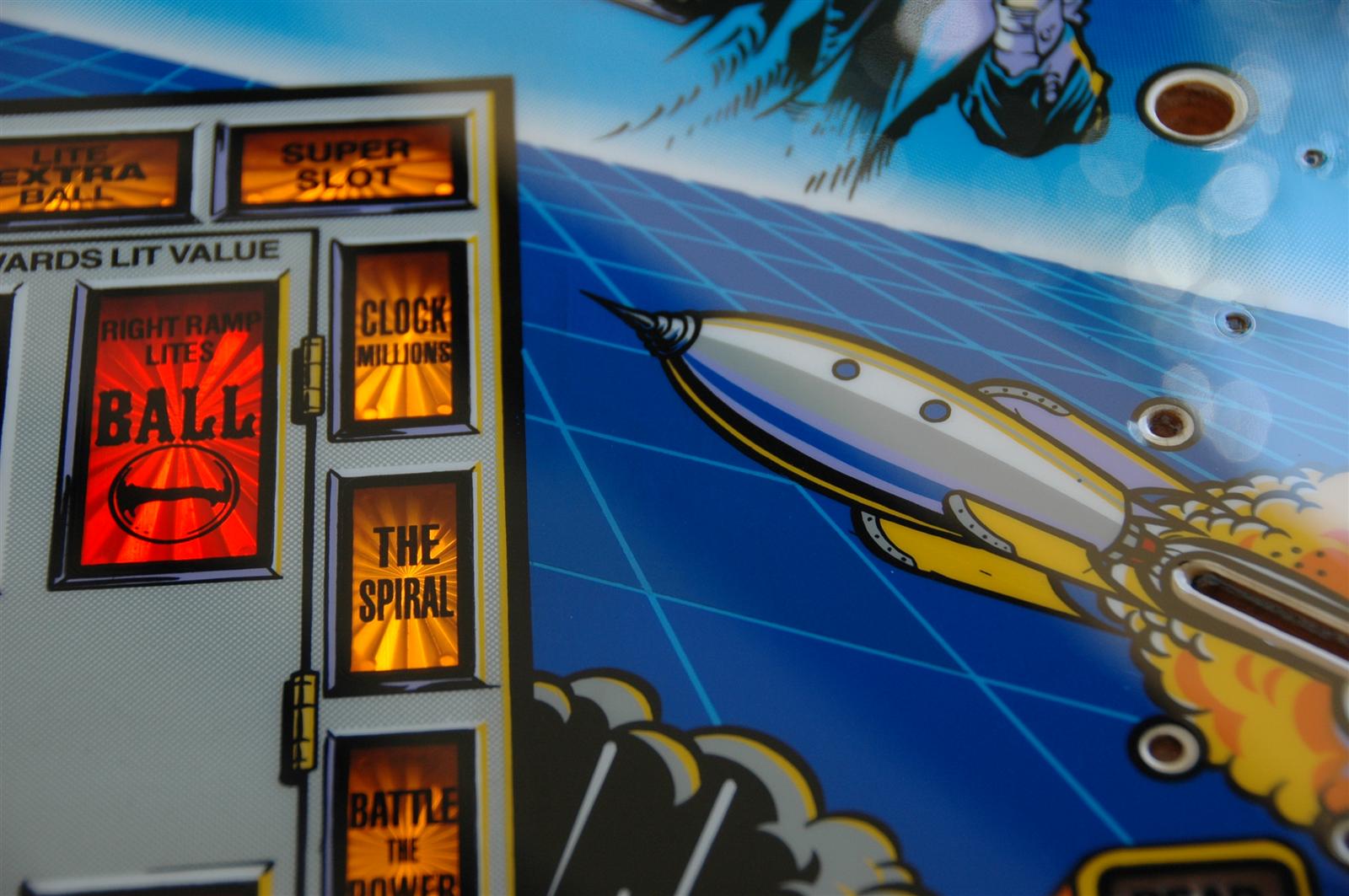 And here's how those raised and worn inserts ended up looking: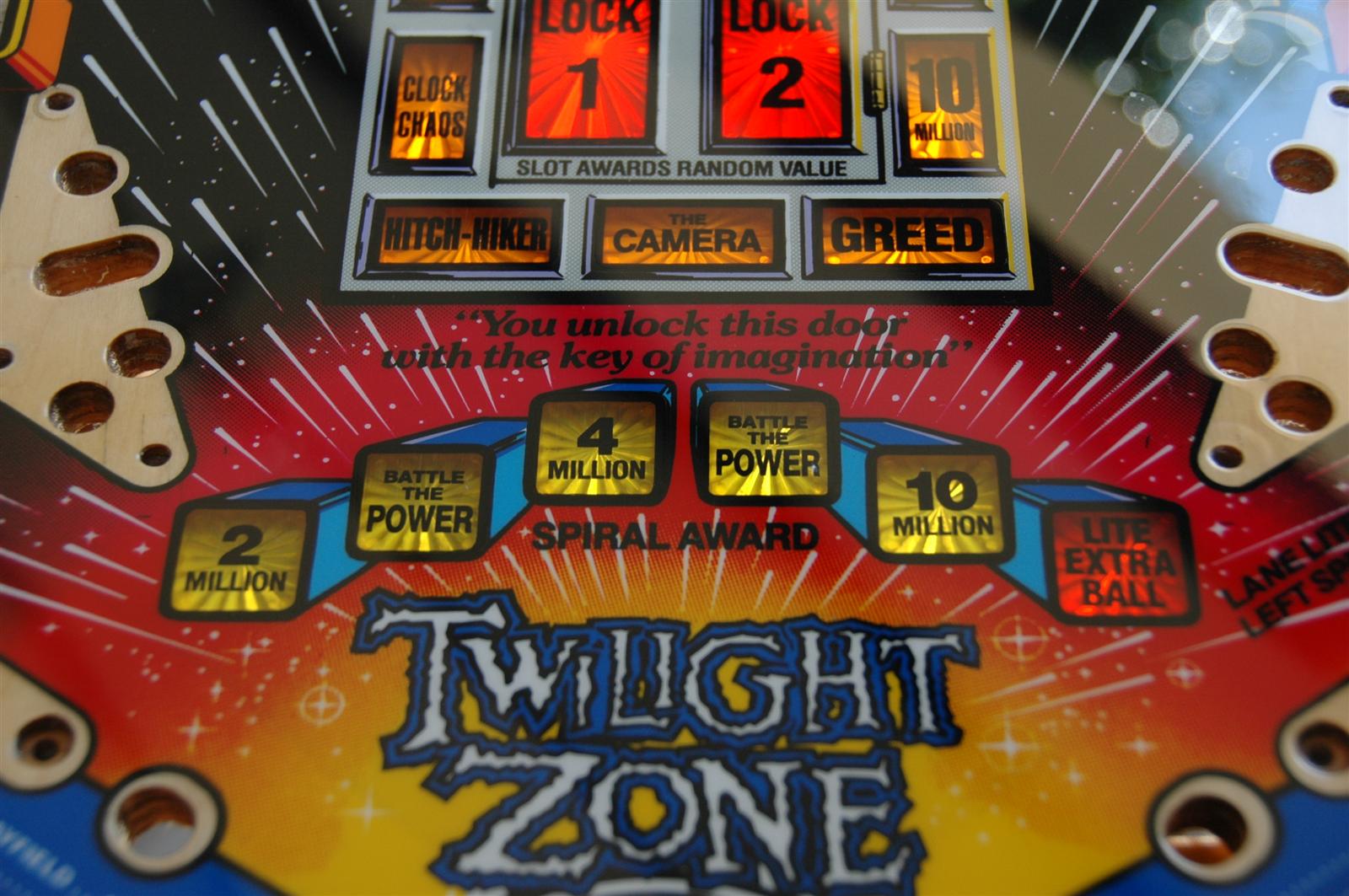 I decided that I'd do more work on this restoration than I performed on my Attack From Mars.  I gutted the cabinet and repainted the entire inside.  In the photo below I haven't reinstalled the stickers.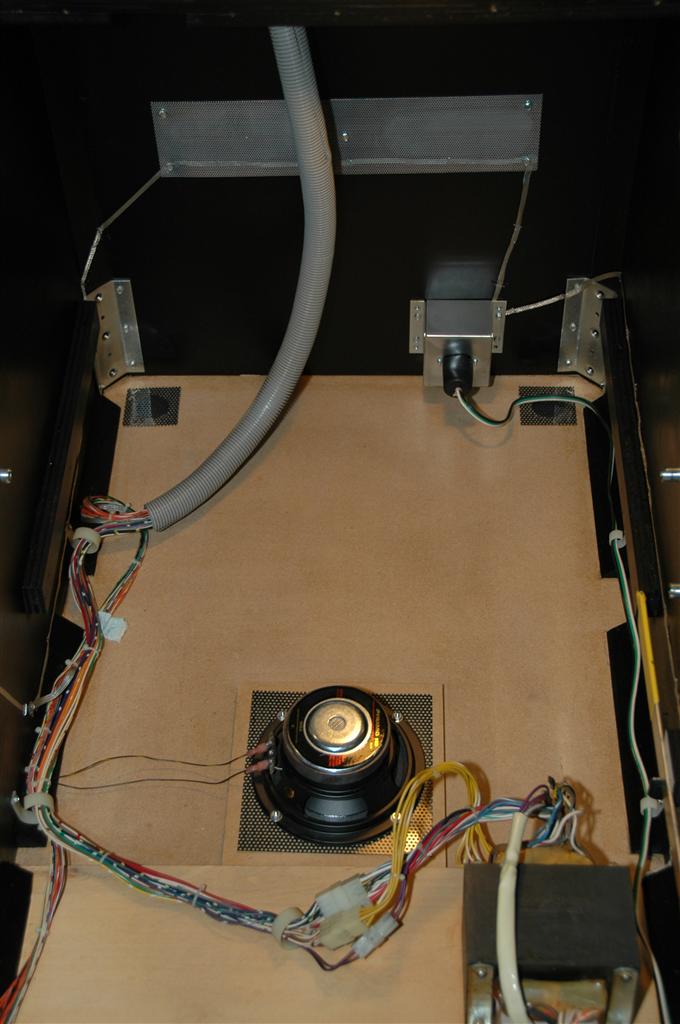 I had to do a little filling of some exterior dings and dents, but the overall condition of the cabinet's artwork was very good if not excellent.  I finished this project in my basement and don't have a lot of exterior cabinet shots as I don't feel like moving things around to take them.  The side pictured below is probably the worst one as there are a couple of scuffs to the artwork.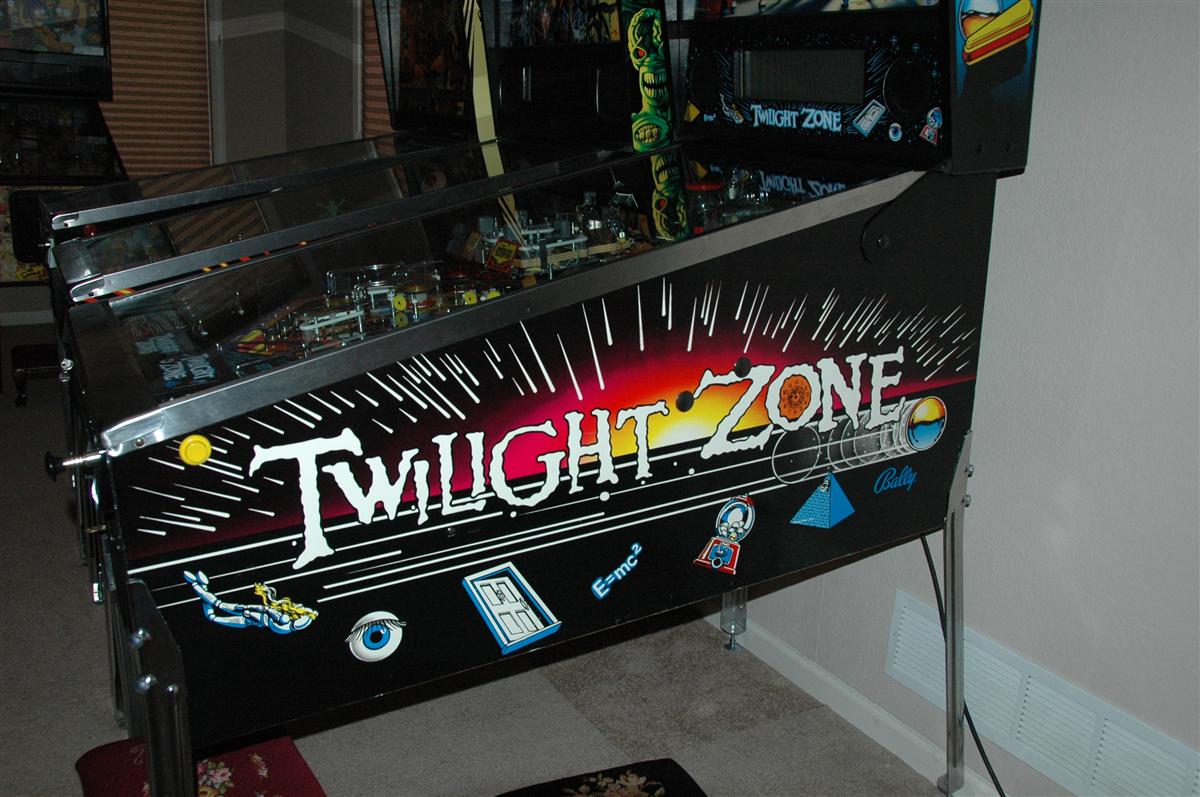 Of course everything above and below the playfield was cleaned and polished before being reinstalled.  I also cleaned and washed the wiring harnesses.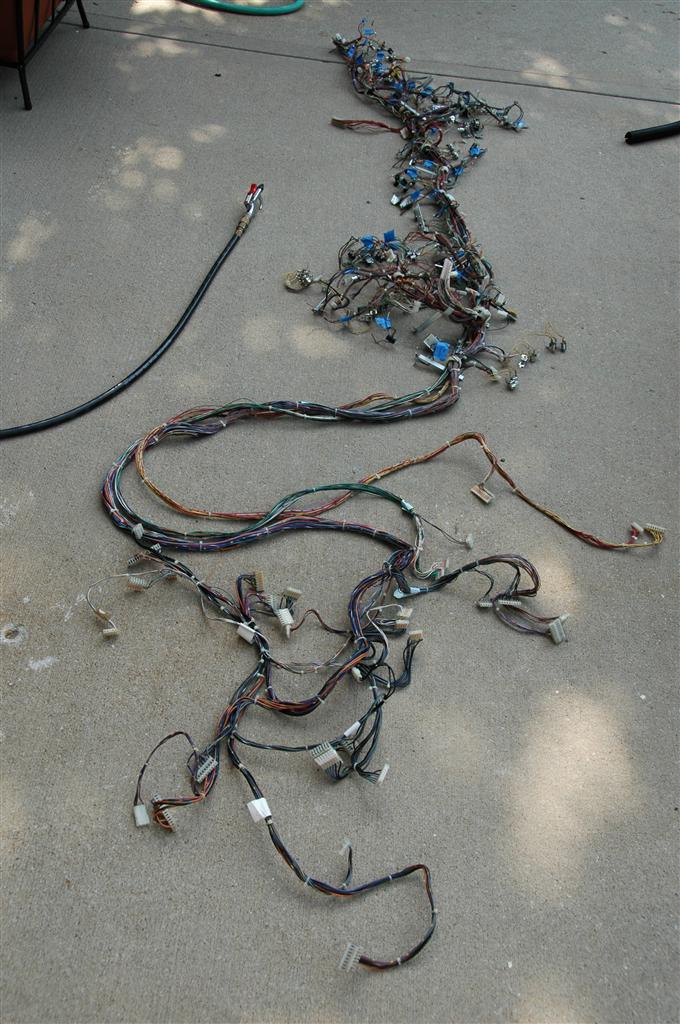 There is a lot more I could detail, and I may add more to this post later.  Twilight Zone is arguably one of the most complicated pinball machines ever made.  There is a lot involved in tearing one down and putting it back together.  I did all the work on this restoration myself and it is a good feeling when you finally flip the switch and it comes back to life.  I have created a slideshow where you can see before and after comparisons.  The entire album of photos is also available.
Some photos of the completed machine: