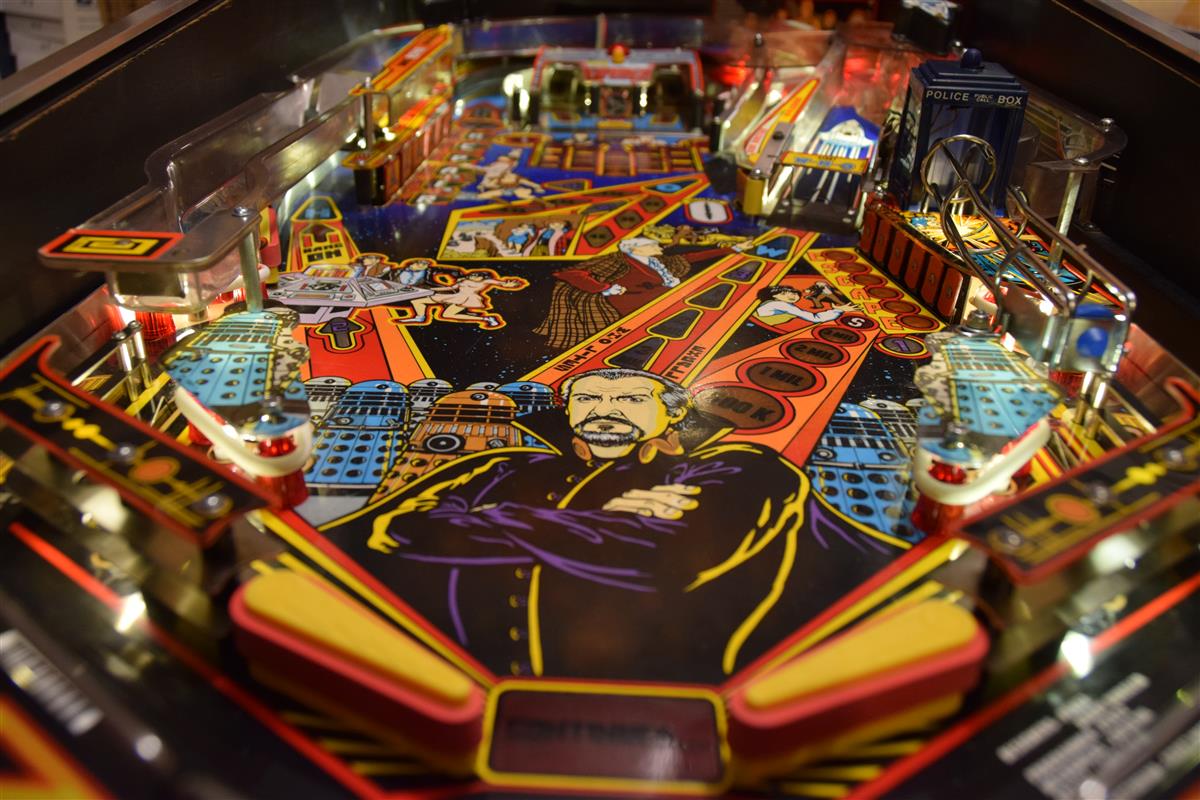 An update on Doctor Who that was mentioned previously.
This game was a disaster and I put wanted to have it ready for the IFPA Oursler benefit tournament at Pizza West on April 13, 2014.  I got it done and we raised $390 for the Ourslers.  Below are some photos and comments on the game.
The game cleaned up pretty good.  The cabinet is not great, but since the playfield was in decent shape, the game plays nicely and so far it is holding up after a few day of public play and a lot of play at the tournament.
Special thanks to Cliff Rinear for donating protectors for the Time Expander and the upper ramp.
Some after and before photos: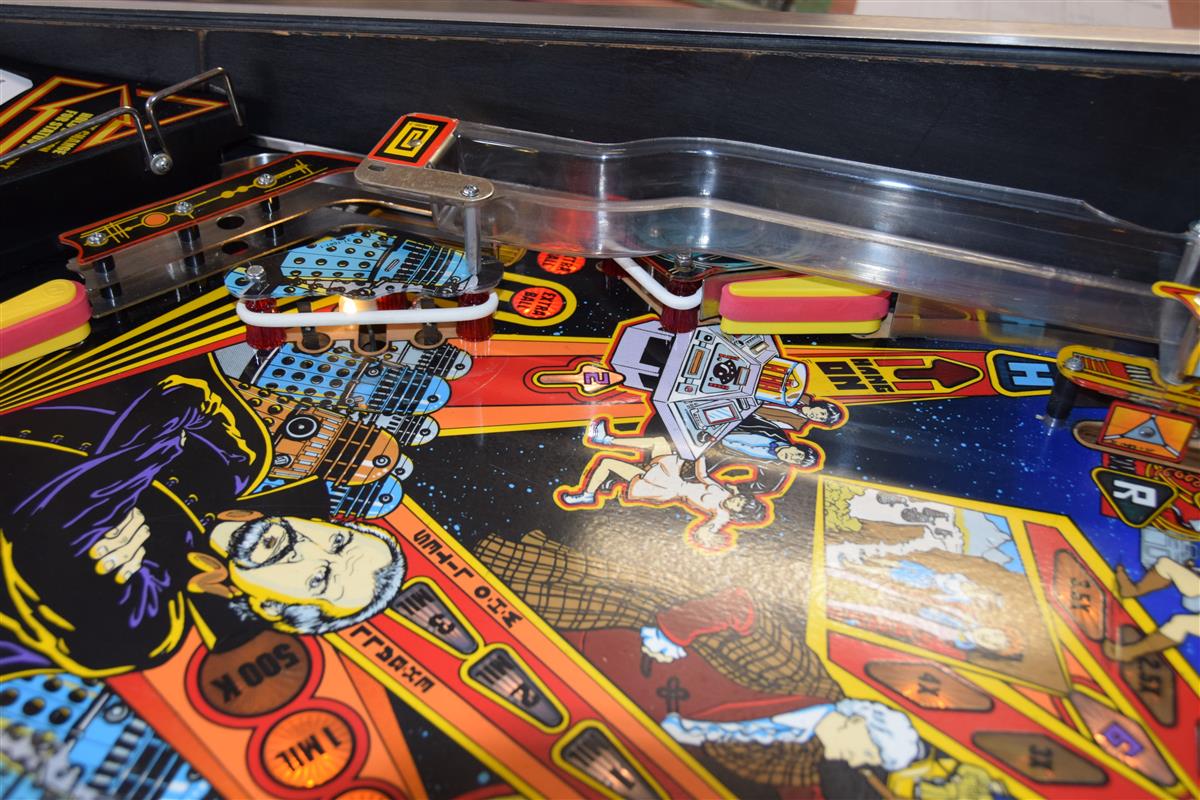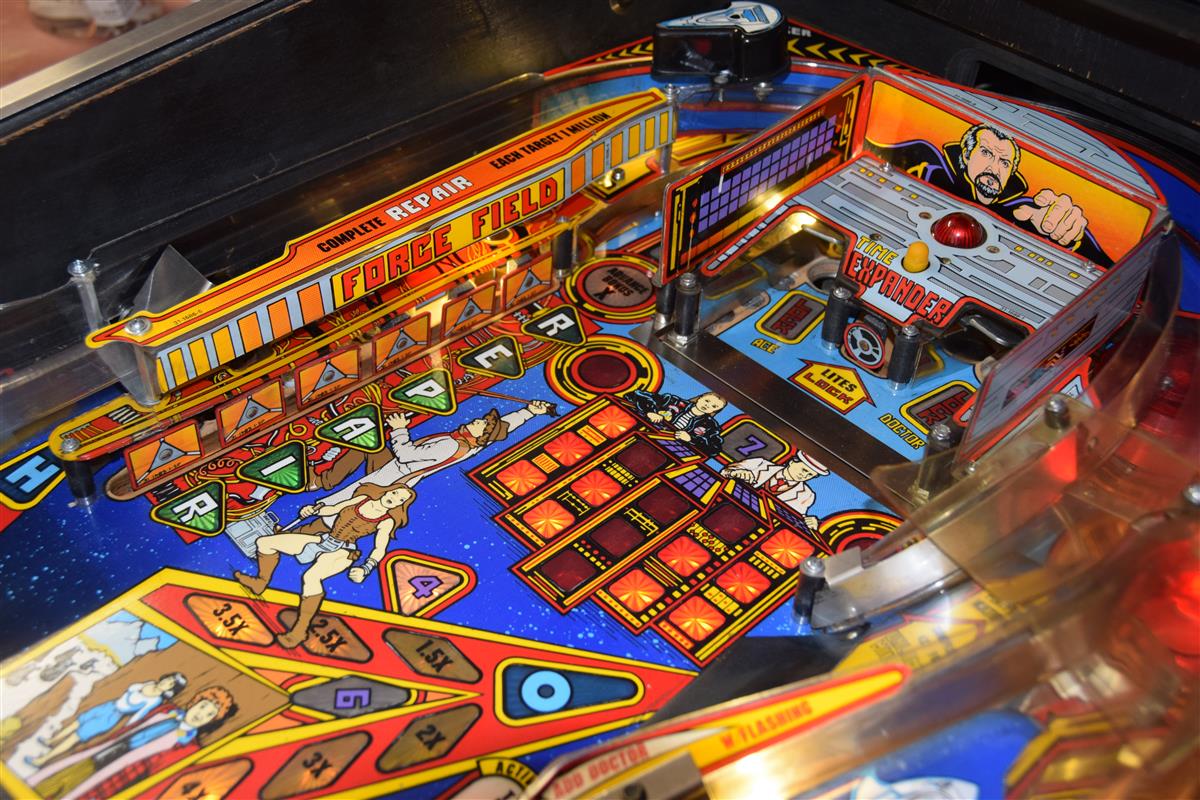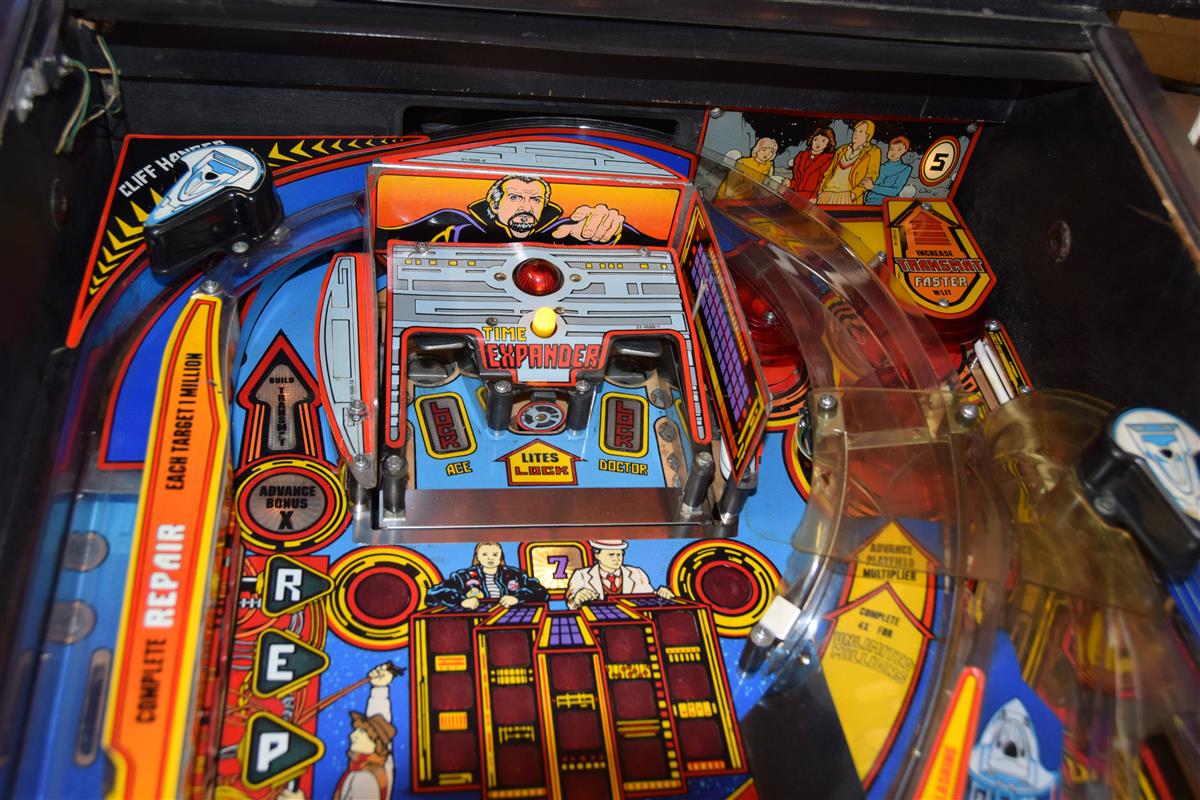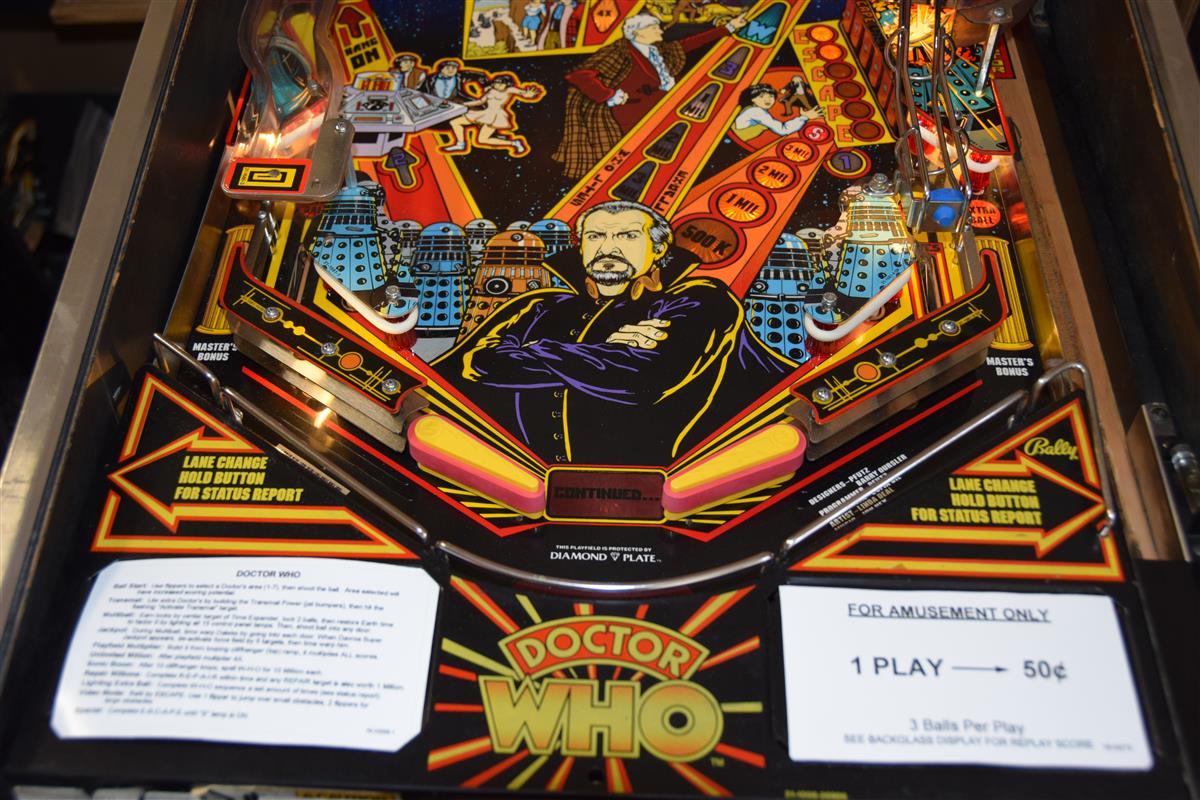 To give you an idea of what this game needed, below is everything I had to repair or replace.  The big items are the coin door, mini-playfield motor, and slingshot plastics.  The sound board was a frustrating repair that took quite a while.  Also, the lockdown bar broke and I had to repair it.  I'm hoping I don't have to replace it.  And finally, the dot matrix display is weak and will probably need to be replaced.  But at this point considering how much money I've sunk into the game, I'm going to run the DMD that is in it as long as I can.
Update:  After a few weeks, the DMD was pretty much shot and I replaced it.
| | |
| --- | --- |
| Dot Matrix Display | 1 |
| Levelers | 4 |
| 15000uF 35v | 2 |
| 4700uF 35v radial | 2 |
| 220uF 160v axial | 2 |
| 220uF 25v radial | 1 |
| 100uF 25v radial | 1 |
| 100uf 35v radial 105c | 1 |
| 47uF 25v axial | 5 |
| 47uf 50v radial 105c | 1 |
| 47uf 25v radial 105c | 1 |
| 1uF tant capacitor | 7 |
| 3A SB fuse | 4 |
| 5A SB fuse | 3 |
| 8A SB fuse | 1 |
| 3 cell battery holder | 1 |
| .156 locking header | 2 |
| WPC plunger and link – left | 2 |
| WPC plunger and link – right | 1 |
| Red pop bumper skirt | 3 |
| Service outlet | 1 |
| Backbox latch | 1 |
| Ribbon cable set | 1 |
| Time expander motor/gearbox | 1 |
| Coin door | 1 |
| .156 Molex 7 pin | 3 |
| .156 IDC 11 pin | 1 |
| .093 connector pin male | 4 |
| .093 connector pin female | 2 |
| .156 trifurcon 18-20 AWG | 18 |
| .062 male connector pin | 3 |
| .062 female connector pin | 3 |
| 1-7/8″ VUK sleeve | 4 |
| 1-3/4″ coil sleeve | 5 |
| TIP 102 | 1 |
| 4004 diode | 1 |
| 555 lamp base | 1 |
| microswitch body | 1 |
| 26-1200 WMS coil | 1 |
| 15411 orange flipper coil | 1 |
| Slingshot plastics | 1 |
| 14 pin DIP machine socket | 3 |
| 28 pin DIP leaf socket | 1 |
| Flipper bushing | 3 |
| NO EOS switch | 2 |
| Flipper return spring – WMS | 2 |
| Flipper stop rubber | 1 |
| 5 lead opto | 1 |
| 130v Varistor | 1 |
| TL084 IC | 1 |
| Large microswitch | 1 |
| 2-3/16″ sleeve | 3 |
| Coil stop | 3 |
| Lightning flipper | 2 |
| Clear washer | 4 |
| 3-1/2″ ring | 1 |
| 2-1/2″ ring | 2 |
| 2″ ring | 1 |
| 1-1/2″ ring | 5 |
| 1-1/4″ ring | 1 |
| 1″ ring | 1 |
| 3/8″ OD nub | 4 |
| shooter tip | 1 |
| black sleeve | 3 |
| tapered sleeve | 7 |
| yellow sleeve | 1 |
| 906 LED flahser | 8 |
| 555 mini LED | 43 |
| 44 retro LED | 30 |
| 44 mini LED | 15 |
| Flat 555 red 4+1 | 3 |
| #47 bulb | 10 |
| 906 flasher | 12 |
| pinball | 2 |
| AC cord cover plate | 1 |